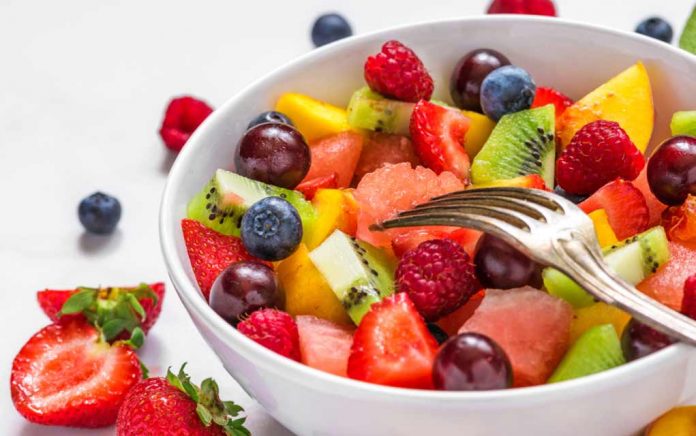 (AscendHealthy.com) – Most fruits make healthy additions to almost any diet, but some choices are better than others if we're trying to lose weight. Not sure where to start? These fruits are all low in calories but high in nutrients and fiber, making them great options for people looking to lose a few pounds.
1. Watermelon
Highly satisfying and filled with flavor, watermelon is a prime choice for dieters. It's low on the glycemic index, with only about 46 calories per serving and rich in vitamins A and C. Other melons, like cantaloupe and honeydew, are also excellent for your waistline. Try making a melon sorbet for a refreshing, weight-busting snack or dessert.
2. Grapefruit
Just one cup of grapefruit gives you over 100% of your daily vitamin C, over half your vitamin A requirements and 15% of your necessary fiber. Under 100 calories per serving, this nutritious citrus fruit makes a great low-cal breakfast. Grapefruit is high in natural sugars, so keep servings reasonable to keep your glycemic index score within target. Not a fan? Try other citrus fruits for similar benefits.
3. Pears
Pears are about as low as you can get on glycemic load, being packed with fiber, which can help you feel full longer. They contain trace amounts of numerous vitamins and minerals, making them a great supplement to any balanced diet. And at around 50 calories per serving, they make a great afternoon pick-me-up that won't bust your diet.
4. Raspberries
A great source of fiber while also low in calories, raspberries are another excellent choice. They're a rich source of vitamin C and manganese, and they provide decent amounts of vitamin A, copper and folate. Eat them on their own or make a protein-packed power snack by combining them with some plain Greek yogurt.
5. Peaches
With a broad array of nutrients and 10% of your daily fiber, peaches are a healthy choice for most diets. They're also versatile, adding a sweet kick to meals and baked goods. Be careful: Stone fruits, in general, can contain moderately high sugar levels, even sour cherries and apricots, so enjoy these fruits in moderation.
6. Kiwi Fruit
Kiwi fruits, also called Chinese gooseberries, contain a whopping 273% of your recommended vitamin C, 89% of your total vitamin K and 21% of your dietary fiber. They're also a good source of folate, copper and potassium. They're only about 100 calories per cup, and they have a good, lasting fullness factor, which makes them great for snacking.
7. Guava
A 112-calorie serving of guava will give you 36% of your daily fiber, which will keep you feeling full long after you've eaten. And its vitamin content blows even kiwi out of the water. In addition to offering over 600% of the recommended allowance for vitamin C, guava will give you about 20% each of your required folate, potassium and copper — and it's even a good source of protein. Guava is a little higher on the glycemic index than most other fruits on this list, so limit your servings to keep your sugars reined in.
8. Papaya
Papayas offer a good balance of vitamins and minerals, contain a decent amount of fiber and only set you back about 55 calories per serving. They have a great fullness factor and a moderate sugar content. Try this papaya-mango smoothie for a cool and satisfying treat that will help keep your diet right on track.
With so many nutritional benefits to gain and unwanted pounds to lose, we owe it to ourselves to eat more fruit. See how many of these delicious, filling varieties you can incorporate into your regular diet. Your body will thank you for it.
~Here's to Your Healthy Ascension
Copyright 2022, AscendHealthy.com