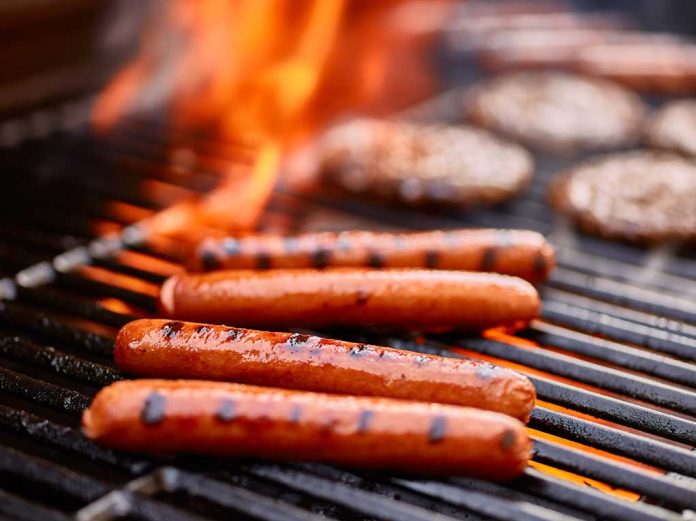 (AscendHealthy.com) – Barbecue season is upon us, meaning good food and fun gatherings with family and friends. There are so many temptations when it comes to food.
For those of us trying to follow a healthy diet, it can be challenging. What's harder is knowing which foods to avoid and which to prioritize. Let's take a look at some of the best and worst BBQ foods for your health this summer.
Best and Worst BBQ Meats
Hot Dogs vs. Hamburgers: The Big Debate
Hot dogs and hamburgers are two of the most popular options during grilling season. But which is the healthier option?
From a calorie standpoint, hot dogs win. However, there are other factors to consider. Burgers pack about three times more protein than hot dogs, and they contain about 30 fewer grams of carbs. The average hot dog also contains about three times as much sodium as a burger.
Another concern when it comes to hot dogs is nitrites and nitrates, which have been linked to an increased risk of cancer and stroke.
The Verdict: Burgers are the clear winner as long as they're made from at least 95% lean meat (which cuts 10 grams more fat than 85% lean meat). Turkey burgers made from lean meat are even lower in saturated fat, making them a better option. Even though they're higher in sodium, veggie burgers are also lower in saturated fat.
Regardless of the type of burger patty we choose, it's ideal to opt for a whole-grain bun and top with lettuce and tomato.
Prefer hot dogs? Consider choosing a healthier option, such as Applegate Farms The Great Organic Uncured Beef Hot Dog. These hot dogs are made from 100% grass-fed beef and are preservative and nitrate-free.
For a vegetarian option, consider Jack & Annie's Apple Sausage, containing real apples and 7 grams of fiber per serving.
Bad: BBQ Sauce-Covered Meats
Chicken or ribs drenched in BBQ sauce might be a cookout favorite, but the BBQ sauce, while tasty, presents problems. This favorite summertime sauce can contain up to 17 grams of sugar and 200 to 350 mg of sodium. Some popular sauces may also contain high-fructose corn syrup, caramel coloring, and other questionable additives.
Consider skipping the BBQ sauce and eating grilled chicken or ribs plain instead.
Best: Grilled Chicken or Shrimp Kebabs
Grilled chicken and shrimp are diet-friendly options. Be sure to add plenty of fresh vegetables, such as zucchini, cherry tomatoes, onions, mushrooms, and bell peppers. Kebabs are low in carbs and fat and packed with fiber and nutrients.
Best and Worst BBQ Sides
Bad: Mayo-Based Pasta Salad or Potato Salad
'Tis the season for a big plate of pasta or potato salad. They're a mainstay at most picnics and summer potlucks. The problem? Mayonnaise packs on extra fat, sodium, and calories. Hellmann's Real Mayonnaise contains 10 grams of total fat, of which 1.5 grams are saturated fat, for every tablespoon.
One cup of potato salad can add 358 calories to our plates, while mayo-based pasta salad can weigh in at 288 calories. And how many of us stop at just one serving?
Make It Healthier: To make a healthier pasta or potato salad, consider using oil and vinegar instead of mayo.
If mayonnaise is unavoidable, consider using avocado or canola oil-based varieties because they are higher in heart-healthy monounsaturated fats.
When making a pasta salad, opt for whole-grain pasta and add lots of vegetables like tomatoes, zucchini, black olives, and cucumbers.
Bad: Baked Beans
Although beans are high in protein and fiber, baked beans can be a mistake for most dieters — especially if they come from a can. One cup contains nearly 400 calories, 24 grams of sugar and over 1,000 mg of sodium, nearly half our recommended daily allowance of sodium in one helping of one side dish.
OK: Coleslaw
Cabbage is rich in vitamins, nutrients, and fiber, making it a healthy option for most dieters. We can also add carrots or radishes to our coleslaw. But like pasta salad or potato salad, coleslaw is often dressed with mayonnaise, making it high in fat and saturated fat.
Make It Healthier: Consider dressing coleslaw with oil and vinegar or a lighter mayo option. Another idea is to use 50% mayo and 50% Greek yogurt when dressing coleslaw.
OK: Corn on the Cob
An ear of corn contains 4.6 grams of fiber, making it an ideal option. The problem is that most people smother it in butter and salt. One tablespoon of butter can add 100 calories plus 7 grams of saturated fat. Instead of adding butter, consider eating corn on the cob plain or adding garlic or pepper.
Good: Tossed Salad
At the next summer BBQ, consider opting for a tossed salad. Choose oil and vinegar instead of high-calorie, high-fat, creamy dressings like Ranch or French.
Good: Grilled Green Beans
One cup of green beans contains just 28 calories and 4 grams of fiber, making it a smart choice for a side at the next summer BBQ. Grill them with some olive oil, lemon juice, and black pepper to keep them healthy.
Best and Worst BBQ Desserts
Bad: Strawberry Shortcake
Don't be fooled by the disguise of fruit; this cake is anything but healthy. Strawberry shortcake generally contains more than 400 calories and 20 or more grams of fat per serving.
Better: Lemon Meringue Pie
While it's not the healthiest dessert on our list, lemon meringue pie is slightly healthier than strawberry shortcake. A typical slice will set us back 362 calories and 16.4 grams of fat.
Better Yet: Brownies
The average brownie contains less than 150 calories and less than 10 grams of fat — it's not necessarily a great dessert option, but there are worse dessert options out there.
Make It Healthier: To make healthier brownies, consider using black beans! Recipes like this one can make these treats surprisingly healthy and tasty.
Good: Grilled Peaches
A peach contains approximately 70 calories, 3 grams of fiber and plenty of vitamins and nutrients, making them a healthy option. Slice them and sprinkle with some cinnamon, nutmeg and honey before grilling. Eat them alone or served with a scoop of vanilla ice cream or frozen yogurt.
Good: Watermelon
With 46 calories per cup, watermelon is 92% water. Still, watermelon is packed with vitamins and nutrients. It's one guilt-free sweet treat most of us can enjoy this summer.
While barbecues are always a big hit every summer, they come with their share of temptations. There is no reason to sacrifice our health for good food this summer — we can have both! Get out and enjoy a lovely gathering and some healthy, delicious food, too.
~Here's to Your Healthy Ascension
Copyright 2021, AscendHealthy.com