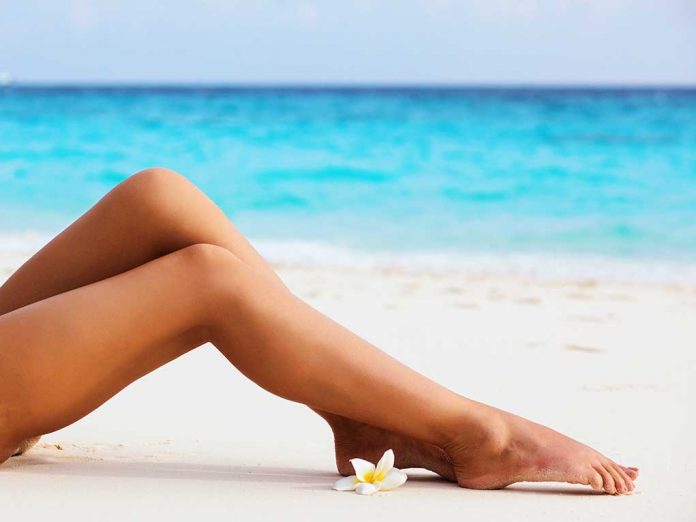 (AscendHealthy.com) – People are always talking about summer bodies, but they often neglect to consider their feet. Footcare is more than just pedicures and looking good in sandals. We also need to know how to take great care of our feet for health and safety, too — and that should be a year-round focus. Find out what we've learned about foot care!
Summer Can Be Hard on the Feet
With summertime comes beaches, outdoor events, and a lot more opportunities to go around barefoot. It's also the right weather for sandals, flip-flops, and open-toed shoes. But all of those things can add up to health and safety risks for the feet. Sure, we want our feet to look nice. But it's often more important to make sure they're protected.
Fortunately, there are some great ways to reduce the risk of injury to our feet while still being able to show them off when we want to. Where we are and who we're visiting may make a big difference in how we dress and the ways we prepare our feet. How we care for our feet after an event or adventure may also contribute to foot health.
Protect Foot Health During Warmer Months
To protect the health of our feet during the warmer months, we need to take some important precautions. First, we shouldn't go barefoot unless we're sure of the conditions where we'll be walking. Our backyard may be safe, but the beach could have broken glass or other damaging materials we need to avoid. Flip-flops may make it safer for the soles of our feet.
Also, apply sunscreen liberally to the tops of feet and reapply after feet get wet. Feet are often more vulnerable to sunburn because they're covered most of the time. As a result, they won't be as tanned as the legs. Other important tips for summer foot health include keeping feet and shoes dry to avoid fungal infections and staying hydrated and on the move to promote blood flow and reduce swelling in the feet and ankles.
Keep Feet Looking Good in the Summertime
In addition to having healthy feet, most of us also want our feet to look good. One of the best ways to keep them looking nice is to start with keeping them clean. Wash them thoroughly with every shower, and dry them well to reduce the risk of foot fungus and other kinds of problems. Also, make sure to cut toenails straight across instead of rounding the corners. That rounding may look nice but can lead to ingrown nails.
To make sure our feet look their best, frequently exfoliating and moisturizing them is also a good idea. A high-quality DIY foot scrub and massage may make a big difference in how our feet look and feel. Foot soaks are a good way to help feet look and feel better, too. In short, pamper your feet a little. They'll look better, and the pampering may feel good, too.
Good foot care is important for health, and proper care of our feet will generally lead to them looking better, too. By taking the time to make our feet a priority, we may reduce the chances of injury and discomfort, along with helping us have feet we want to show off this summer, too.
~Here's to Your Healthy Ascension
Copyright 2021, AscendHealthy.com