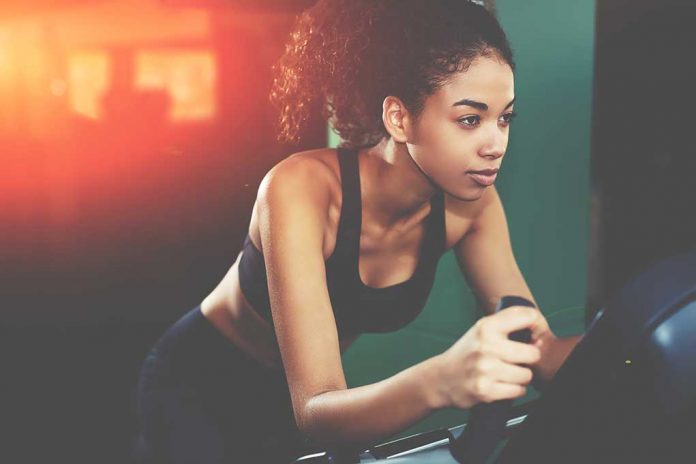 (AscendHealthy.com) – Workout fads soar in popularity each year… and then seem to fade just as fast. But a new exercise trend designed for home use just might outlast even the Energizer Bunny. Learn more about the latest home workout trend below.
How Did This Trending Home Workout Evolve?
Spin is in. And no, we're not talking about twirling around or trying to balance spinning plates.
Also known as indoor cycling, the spin bike trend began as a popular gym class. Participants biked side by side to music in a typically crowded room, obeying the spin instructor at the head of the room who yelled out instructions.
Then came the pandemic. Some gyms closed, while others canceled classes. Those changes led spin bike fans to seek home versions of their favorite workout. And the home indoor cycling trend was born. Since then, all types of options for hopping on the home spin bike bandwagon have evolved.
What Are The Benefits Of This Home Workout?
There are several reasons why indoor cycling has become so popular. Those interested in this home workout should talk to their doctor first.
With a physician's approval, here are some benefits we might reap from investing in a home spin bike:
Convenience: In contrast to biking or walking outdoors, indoor cycling offers a way to stay fit regardless of the weather.
Low-Impact: Running or even walking quickly may put stress on our joints. In contrast, indoor cycling lets us get fit with a low-impact, yet effective, activity.
Two for One: The movements in a spin bike session achieve two purposes: They build strength in our lower body while providing a cardiovascular workout.
Enhance Health: A study featuring indoor cycling showed participants improved several significant health factors, including cholesterol, endurance, and muscle mass.
Growth: Spin bikes are designed to work for all levels of fitness. That means we may improve from beginner to advanced without having to purchase new equipment.
What Are Your Options for This Home Workout?
Thanks to spinning's popularity, there's an option for everyone, from budget-conscious beginners to willing-to-invest experts. Online classes have grown as well, with just as much variety available.
So, what should we look for in a bike? Here are some things to keep in mind:
Budget-Friendly: The popularity of home spin bikes has resulted in various inexpensive, yet effective, options under $400. In this category, look for a bike that includes an adjustable resistance knob, handles that are easy to lower or raise, and a comfortable seat.
Smart: So-called "smart" bikes typically involve a monthly class subscription fee. The screen attached to these indoor spin cycles are designed to stream courses, providing the look and feel of a spin class held in a gym.
Top Tier: Peloton manufactures the most expensive spin bikes designed for home use. Their priciest bike costs more than $2,000, with a $40 monthly subscription needed to take either on-demand or live classes. Other contenders in this high-end category include models made by NordicTrack, Echelon, and Schwinn, with prices ranging from $1,999 to $799.
Trainer: Those who already have a bicycle they ride outdoors may want to look into bike trainers. These devices clamp down a regular bike, allowing us to turn it into an indoor cycle.
Classes: Online cycling class options range from courses designed for beginners to sessions incorporating everything from meditation to weights. Some classes require a monthly subscription, like the Peloton App. On a budget? Consider beginning with a free course, such as the 30-minute rap ride.
Before deciding that spin is a win, please check with a healthcare provider to discuss any precautions or limitations. With their approval, choose the right type of bike and class for your needs. And last but not least: Have fun!
~Here's to Your Healthy Ascension
Copyright 2023, AscendHealthy.com