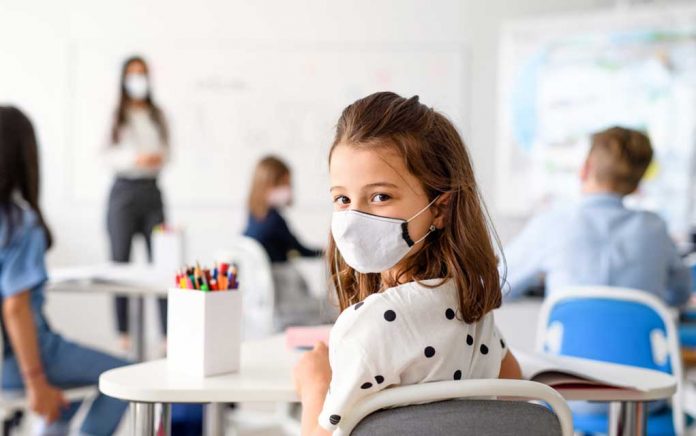 (AscendHealthy.com) – The classroom is a place for learning and growth for all ages. While it may usually be a secure haven for most children, the pandemic has prompted new protocols and safety measures to stop the spread. Find out how to keep kids safe at school.

These Back-to-School Tips Will Keep Your Child Safe From COVID.
Purchase the Right Mask
Almost all back-to-school students will be required to wear a face mask. Masking up can help children be safer and teach them about being responsible to others by working to protect their health. There are a lot of different types of masks available. But what about for kids? Here are some things to look for:
Light, 100% cotton cloth material.
Secure fitting to prevent a lot of adjusting.
No gaps, but should not inhibit the ability to breathe comfortably.
Fun color or character design to promote the desire to wear.
Reusable masks are a good option, but you may not want to purchase expensive face coverings because kids could easily leave them behind.
Teach Kids About Social Distancing Safety
There is a good likelihood that most children have been staying at home, hunkered down for the past few months. This means they may not be in-the-know when it comes to social distancing. Now is the perfect time to go over a few key points so they'll understand some of the guidelines that may be in place at school.
Show them how to stand 6-feet apart from others and maintain a safe distance when someone approaches.
Teach them how to recognize social distancing signs and markers.
Remind them to practice frequent handwashing and how to use hand sanitizer properly.
Teach them that we want to minimize the risks of getting sick with the virus, while also allowing fun and effective learning. Kids get to be the superheroes for each other in this scenario by following safe practices.
A Thorough Health Checkup May Be in Order
Over 338,000 children have tested positive for COVID-19. If you suspect your child may have the virus or may be at risk for complications from it, schedule an appointment with your child's healthcare provider. Be sure to let them know if you suspect or have confirmation that your child has COVID-19 so that they can safely work with your child and keep others safe from infection. If underlying conditions exist, the doctor can address and potentially prevent complications that might occur. Identifying whether your child is ill might also prevent or control community spread.
Stay Informed
Staying informed is key for parents these days. Be sure to sign up for alerts from your child's school and your local health agencies to stay up-to-date on the latest regarding safety and COVID-19.
Not all kids are returning to the classroom; some will still study from home. But for children who do return, preparation and information may help keep them and their classmates safe. Learning, playing and socializing will all be part of the school day — just at a safer distance.
~Here's to Your Healthy Ascension
Copyright 2020, AscendHealthy.com