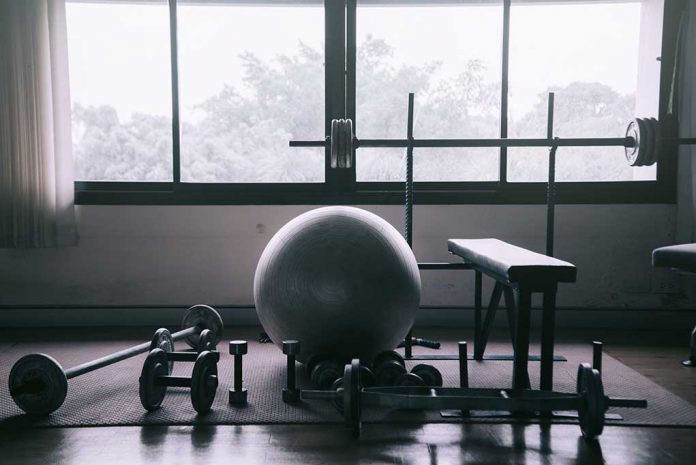 (AscendHealthy.com) – How many of us dream of building our own personal gyms? Having direct, 24/7 access to all the best exercise machines, never worrying about some stranger forgetting to wipe up their sweat, always choosing what's on the overhead TV — perfect, right?
We can put safety first and buy what we believe is the safest equipment, and tragedy can still strike. Some home gyms have become the source of serious injury, and one child even died recently due to equipment none of its users realized could be so dangerous. We have details on the potential hazards.
More Dangerous Than It Looks
What home gym is complete without a treadmill? They all might seem safe enough with proper use, and yet Men's Journal reports that these go-to exercise machines are responsible for two-thirds of all home gym injuries. Most are friction burns on the hands of young children, and the majority of these injuries turn out to be more severe than stovetop contact burns.
An Australian study found treadmill contact abrasions accounted for 3.5% of pediatric burn injuries. Among the children counted in the study, 49% needed skin grafts. Their accounts highlight how even relatively safe models of equipment can cause serious injuries.
Recent Recalls
In May of 2021, treadmill manufacturer Peloton recalled two of its products for separate defects. The first recall was for their Tread+ treadmill, which the company finally took action over after the track pulled a 6-year-old child underneath the unit, causing fatal injuries.
An additional 72 reports on users or their children and pets have detailed accounts of second- and third-degree burns, lacerations and broken bones. Users can send the treadmills back for full refunds or request the company move the units for free into rooms inaccessible to children and pets. About 125,000 of these units went to US home gyms.
The second recall was for the Tread treadmill. This machine has a defective touchscreen that may fall off the console and cause injury. Peloton is asking users to send in the units for free repairs. It distributed about 1,050 to US locations, and another 5,400 went to Canadian gyms. The company's CEO, John Foley, apologizes for not being proactive enough about these issues and encourages users to go to their website for all recall options.
Keeping a Safe Home Gym
Home gyms can create unforeseen hazards, but we can take a few steps to improve safety while we're using machines. The Inter­national Association of Certified Home Inspectors has a few recommendations:
Use treadmill clips as instructed; they can reduce risks of serious injury in the event of trips or other types of falls.
Start and stop the unit gradually to reduce missteps; begin and end with feet on the non-moving surfaces on each side of the track.
Keep machines unplugged or locked when they aren't in use. Keep a lock on the home gym door, as well, to keep children and pets out.
Not just large machines pose risks; even dumbbells and other smaller pieces of equipment can be dangerous if misused. Here are a few steps to avoid related injuries:
Remember not to go too heavy with free weights (see a personal trainer if in doubt).
Always stretch and warm up before starting.
Store heavy equipment in a spot that doesn't pose dropping dangers for adults, children or pets.
Have a spotter for heavier or more dangerous exercises, and always stop if something hurts.
Make sure to talk to a doctor before starting any new exercise regimen.
A home gym can be a game-changer. It can also be a real source of grief. Stay on top of maintenance and recalls to keep equipment as safe as possible and always make sure children and pets are away from machines before using. All it takes is one accident to turn a trip to the home gym into a tragedy.
~Here's to Your Healthy Ascension
Copyright 2023, AscendHealthy.com