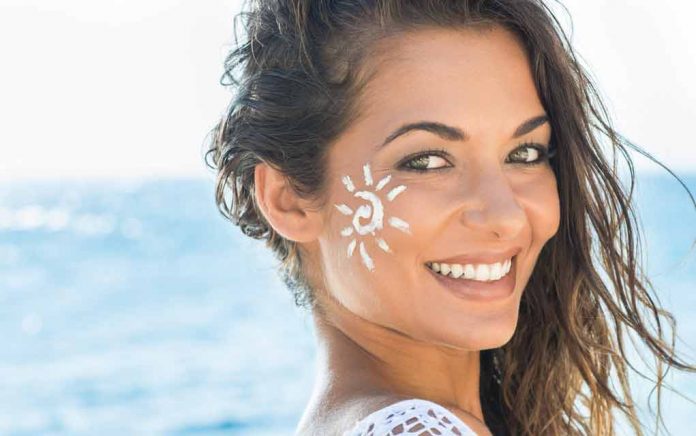 (AscendHealthy.com) – Sun protection is vital, but not all sunscreens are suitable for use on your face. This area of your body can be sensitive, and it's often prone to unique skin conditions, such as acne, blackheads, and whiteheads. That's why it's so important to use a gentle sun protection product whenever you head outdoors. Here are some of the best options for the face sorted by their usage types.
Best Sunscreen For Dry Skin
People who suffer from natural or seasonal dry skin should always use sunscreen before going outside, even in the winter. Sun exposure can be extremely drying. Add windburn or sunburn, and those effects quickly multiply. You can save time and protect your face with Superscreen Daily Moisturizer SPF 40 by Supergoop. It contains special emollients that hydrate your skin while still blocking harmful UVA and UVB rays.
Antioxidant and Repairative Protection
La Roche-Posay's Anthelios AOX Daily SPF 50 Sunscreen contains antioxidant ingredients that help detoxify and rejuvenate your face. This means you can wear it to help restore damaged skin, protect against damage from free radicals, and ward off the sun's harmful rays, all at the same time.
Affordable Water-Resistance
Island Sport Lotion Sunscreen SPF 50 by Hawaiian Tropic is one of the most affordable options available, offering excellent water resistance and high SPF rating in the same product. It's an ideal choice for swimmers and those who adore water sports. Plus, it's resistant to sweat — it won't wear off rapidly, even on the hottest days.
Protect Against Blue Light Damage And Pollution
The Supergoop brand gets another win with Zincscreen 100% Mineral Lotion. This product protects against the sun, as well as dangerous blue light damage and pollution. While Mineral Lotion is a zinc-based lotion, it isn't thick or chalky — it's smooth and lightweight instead. This makes it comfortable to wear for hours at a time.
When it comes to sun protection for the face, not all products are created equal. The above information should help you find the best product for your skin type. But whatever formula you use, the most important takeaway is that using any sun protection at all will always be better than going without.
~Here's to Your Healthy Ascension
Copyright 2023, AscendHealthy.com