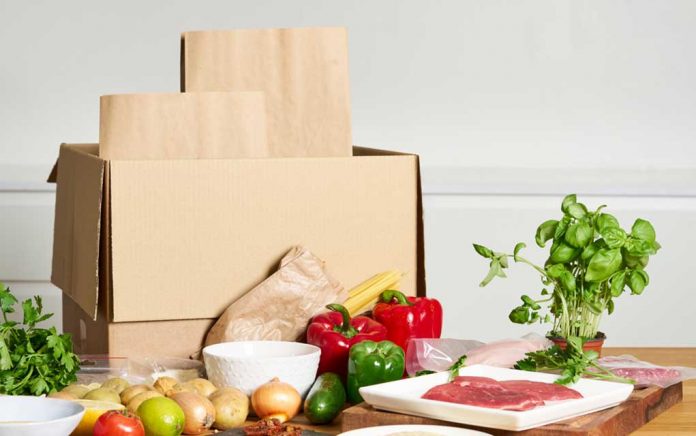 (AscendHealthy.com) – Before the pandemic, we may have often enjoyed restaurant and fast food dining on a regular basis. Now, many of us are swapping the drive-through for our kitchens. Wish you could ring a bell for a personal chef? Consider the next best thing: Healthy meal kit services. Get the dish below.
3 Healthiest Specialized Diet Meal Kit Services
Meal kit services offering specialized diets may help us to shed pounds or follow a doctor-prescribed food plan such as gluten-free. Some of the healthiest diet-friendly meal kit services are:
Sun Basket: This meal kit company focuses on sustainable offerings, including hormone-free meat and organic eggs. Whether you're on a Paleo diet or need gluten-free meals, Sun Basket lets you select among pre-prepared servings, meals to slide into your oven, and do-your-own chopping selections.
Sample meal: Southwestern turkey and sweet potato skillet.
Sample cost: $6.61 per serving.
Splendid Spoon: Vegans and vegetarians, get your spoons ready. Splendid Spoon offers everything from soups to smoothies, all of which are plant-based, gluten-free, and GMO-free. Meals come ready-to-eat, with no prep work required. Sample meal: Cuban black bean bowl.
Sample cost: $9 per serving.
Purple Carrot: Your weekly box from Purple Carrot provides recipes, nutritional details, and pre-measured ingredients. You have several options, including customized meals, high-protein meals, and gluten-free selections.
Sample meal: Vegetable Panang curry with jasmine rice and cashews.
Sample cost: $9.99 per serving.
3 Healthiest Budget-Friendly Meal Kit Services
These days, many of us are mindful of our budgets when we plan our meals. That's where meal kit services that are both healthy and lower in cost can help, such as:
Every Plate: This meal kit company emphasizes affordability. Recipe cards with both instructions and images accompany each kit. Every Plate estimates that the recipes take about 30 minutes of prep time. The company promises to include every ingredient you need, except pantry basics like salt and pepper.
Sample meal: Greek chicken pitas.
Sample cost: $5 per serving
Blue Apron: Prepare healthy meals using Blue Apron's easy-to-follow recipes with their pre-portioned ingredients. Vegetarian and Weight Watchers diet options are available. You can even select wines to accompany your meal.
Sample meal: Waldorf-style chicken salad.
Sample cost: $9 per serving.
Home Chef: Do you miss Taco Tuesday? Long for a pre-pandemic family barbecue? Home Chef delivers pre-portioned solutions to satisfy those yearnings, complete with recipes and dietary options, such as dairy-free or gluten-free.
Sample meal: Crispy gouda and prosciutto sandwich.
Sample cost: $7 per serving.
3 Healthiest Kid-Friendly Healthy Meal Kit Services
Parents know the answer to "What do you want for dinner?" may be the same night..after night…after night. Repeated requests like "pizza, please – but no mushrooms or icky little fish or nasty vegetables on mine!" can make meal prep feel like Groundhog Day.
For a new way to please picky palates, consider a kid-friendly healthy meal kit service. Options include:
Martha & Marley Spoon: "Martha" refers to Martha Stewart, who provides the recipes and spice combinations. You get all the ingredients you need to prep the 6-step recipes, which feature photos and easy-to-follow directions. Choose from 22 meal selections each week, with one section devoted to "family-friendly" meals.
Sample meal: Crispy chicken sandwiches with carrot and parsnip fries.
Sample cost: $6.97 per serving.
One Potato: This company emphasizes prepped, organic, fresh meal kits. Recipes can be prepared in half an hour. One Potato even sells slice-and-bake cookie dough in variations like gluten-free.
Sample meal: Herb-roasted chicken with Brussel sprouts and polenta fries.
Sample cost: $7.32 per serving.
Hello Fresh: Emphasizing flexibility, Hello Fresh says hello to options. You can change meals or skip a week. Each meal kit comes with pre-measured ingredients, recipes, and nutritional data. The company even offers to listen to preferences and then recommend a meal.
Sample meal: Cheesy smothered mushroom chicken with mashed potatoes & roasted carrots.
Sample cost: $7.49 per serving.
Healthy meal kit services may help us experience the joy of cooking without the time-consuming hunt for nutritious recipes and ingredients. Whether we're dieting or budgeting, we can choose a service that fulfills our needs.
Even parents with picky eaters may have fun trying this new trend. Bonus: Turn cooking into a teachable moment by getting kids involved in measuring ingredients and portions.
Worried about cooking mishaps? Channel your inner Julia Child: "The only real stumbling block is fear of failure. In cooking, you've got to have a what-the-hell attitude."
~Here's to Your Healthy Ascension
Copyright 2022, AscendHealthy.com