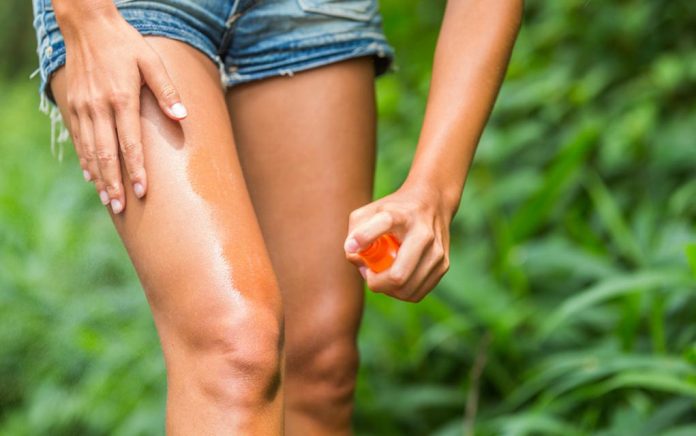 Keep Bugs Away with These 5 Quick Tips
(AscendHealthy.com) – It's the perfect day for a picnic. The food is packed and the destination is planned, but surprise guests are waiting in the wings. The bugs are hungry and ready for their own human feast. While it's impossible to do anything pest-free, there are ways to become less attractive to pesky insects. Here's how.
1. Avoid Lotions and Potions
One of the first perks products advertise on their labels is the fragrances they contain. Naturally, we reach for something that smells good.
The issue is that fragrances can attract outdoor critters. Florals, including rose and lavender scents, often draw in biting insects. Choose wisely when deciding which perfume, moisturizer, shampoo, and body soap to use before venturing outdoors.
2. Never Let Them See You Sweat
With temperatures a little on the warm side, perspiration comes naturally. Winged pests like mosquitoes are often attracted to human sweat.
For a little added protection, it may be a wise idea to shower shortly before venturing outdoors. In addition, don't forget to wear plenty of deodorant and cooler clothing.
3. Keep Food Covered
If meal plans are included with an outdoor excursion, bugs — especially ants and gnats — will be ready to invade. Anything sweet, such as corn, fruit, or desserts, will be an instant dinner bell ringer for creepy crawlies and winged invaders.
Keep food covered and discard all trash properly in a well-wrapped container to prevent further infestation.
4. Avoid Hangout Hotspots
Many insects, including bees, Japanese beetles and moths, adore flowers. For many, this is their home. If you decide to go out and work or play in the garden, keep this in mind.
Having guests over for tea in the rose garden? This could prove unsettling if insects are in attack mode. If you wish to avoid them, stay away from their favorite snack areas.
5. Create Natural Repellents
Everyone knows that it's inevitable to avoid bugs outdoors altogether during warm temperatures.
Looking for an alternative to chemical-laden bug sprays? Try creating your own natural repellants. Some ideas include:
Adding an essential oil mix of either eucalyptus, lemon, rosemary or cedarwood. Place lightly on your wrists and ankles or use a diffuser.
Place a few drops of citronella oil on a small piece of fabric and keep it nearby.
Choose a citrus fruit, cut it in half and prick it with cloves to keep pests at bay.
Add rosemary or mint plants to your backyard area. Bugs don't like the smell.
These natural repellents are a great alternative to DEET and other sprays that may be harmful to humans and the earth's ecosystem.
Itchy skin, bumps, and redness… not something anyone wants to deal with when it's time to wear shorts and sleeveless shirts. Avoid the misery altogether by keeping biting irritants away. There are many ways to stay unattractive to outdoor pests when heading outdoors. Try combining more than one method for optimal results. Here's to a bite-free summer.
~Here's to Your Healthy Ascension
Copyright 2022, AscendHealthy.com