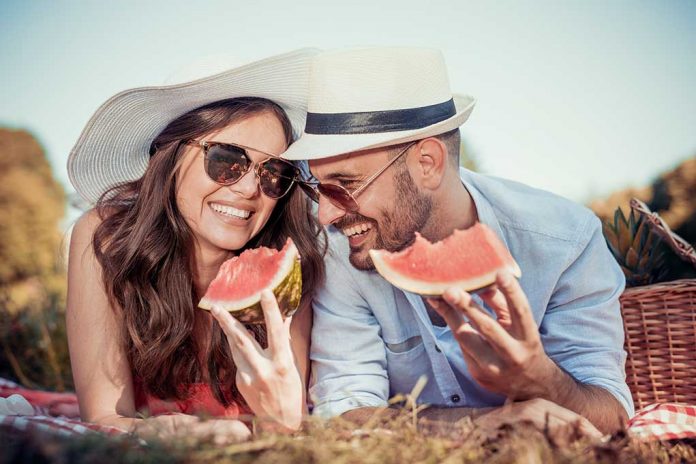 [CONFIRMED] 5 Surprising Watermelon Side Effects
(AscendHealthy.com) – Watermelon is a staple of summer picnics and barbecues. People love it for its taste, its low-calorie goodness and because it's super-hydrating on hot days. In short, it makes people smile. August 3rd is National Watermelon Day, and it's a great day to enjoy and celebrate this yummy fruit. Here are five surprising health benefits of watermelon.
1. Watermelon Contains Antioxidants
Watermelon contains a lot of lycopene. In fact, it has more than any other type of fresh fruit or vegetable. Lycopene is an important antioxidant and has been linked to a lower risk of serious health problems, such as heart disease, cancer, and age-related disorders of the eye.
2. This Sweet Summer Treat Is High In Nutrients
We may be able to get a lot of nutrition from eating watermelon. This sweet treat contains many great vitamins — including vitamin A, vitamin C, vitamin B6, and potassium. There are only 46 calories in a serving of watermelon, and it doesn't have any fat, sodium, or cholesterol.
3. Watermelon Can Help Hydrate Us
It's in the name — there's a lot of water in this melon! In fact, it's 92% water. This makes watermelon a great way to stay hydrated and refreshed when it's hot outside. While it's still important to drink plenty of water, we may add to our hydration levels and enjoyment when making watermelon a part of our summer diet.
4. It Helps Lower Our Disease Risks
One of the biggest benefits of watermelon is that it may help to lower the risk of serious diseases like cancer and heart disease. It may help fight inflammation, which may improve our overall health and reduce oxidative stress on the body. The lycopene in watermelon is a cancer-fighting agent, and has also been shown to lower blood pressure, regulate blood sugar and improve cholesterol numbers.
5. Watermelon May Improve Our Digestion
Eating watermelon can help with our digestion. With a small amount of fiber and plenty of water, this melon is good for keeping our digestive system moving and providing bulk for our stool. While not everyone likes to talk about their bowel health, it's important for overall good health. Added fiber and extra water makes it much easier to keep everything in our digestive system working as it should.
There Are All Kinds of Ways to Eat Watermelon
Many people just cut into a watermelon and start munching, but there are plenty of other ways we can enjoy it, too. It makes an excellent smoothie or other beverage by blending it up. It's the perfect addition to a fruit salad. It's also yummy in a stir-fry or served with feta cheese. Watermelon may be grilled lightly (about 2 minutes per side), and we might also like pickling the rind, which has a unique flavor. There are lots of ways to eat watermelon and a number of watermelon recipes to choose from.
Picking the right melon matters, and with watermelon, it's not hard to do. A good watermelon should be symmetrical and firm, and it should also feel heavier than expected for its size. The underside should have a yellow spot. The spot is where the watermelon sat on the ground while the sun-ripened it. Pale or white spots mean it was picked early, so it won't be ripe.
No matter how often we eat watermelon, it's mostly a warm-weather treat. Enjoy it while it's available, and make the most of all the health benefits from it. With different ways to enjoy it and a little knowledge about choosing a ripe melon, we may be able to get added enjoyment from this sweet summertime food.
~Here's to Your Healthy Ascension
Copyright 2022, AscendHealthy.com