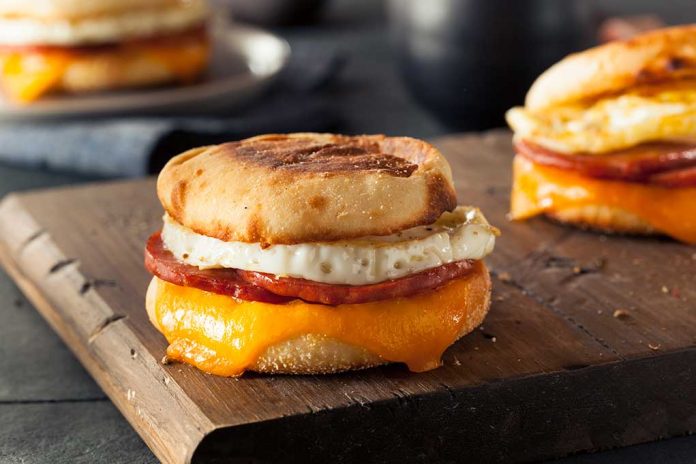 (AscendHealthy.com) – Whether you're dealing with exams, parenting, or a standard work day, that gnawing pain and hungry growl in the stomach is a huge distraction for those of us who forgot breakfast! In fact, eating breakfast may improve energy and concentration and even ward off obesity and type II diabetes. We may think we're too short on time, but that's no excuse. Here are five healthy, on-the-go breakfasts to try now.
1. Homemade Egg Muffin
It can be hard to resist the urge just to grab a fast food brekkie when we're rushed. Here's something better. This recipe from CookieandKate makes for yummy frittatas. We can bake them in the oven or on the stove the night before. Incorporate lean protein and veggies for the ultimate healthy breakfast. To make it more like a fast-food muffin from a favorite fast-food restaurant, add the frittata to an English muffin.
No time to make a frittata? Another option is to make a fried egg and add it to an English muffin. Stay fuller longer by choosing a fiber-rich English muffin, such as Thomas' Light Multi-Grain English Muffins, which contain 100 calories and offer 8 grams of fiber. Top the frittata with cheese and Canadian bacon or turkey bacon.
2. Apple Sandwiches
A very simple, yet healthy breakfast starts with freshly sliced apples. From there, add peanut butter or almond butter as a spread between slices.
Core the apples and slice lengthwise. From there, slather a generous portion of peanut butter or almond butter. For variety, we can add sliced almonds, raisins, or even granola. This crunchy, tasty treat is packed with protein and fiber. Pair it with a veggie smoothie for added energy and brain-stimulating nutrients.
3. Overnight Oats
Many of us adore oats because we know how they fill up our tummies, leaving us full and satisfied throughout the morning. Preparing breakfast the night before can be a real timesaver. The cool part is that we can mix and match several ingredients until we find our favorite combinations.
Start with one or more 8-ounce jar(s) and add the following:
Old-fashioned oats
Yogurt
A sprinkle of chia seeds
Fresh fruit, like a mashed banana
Protein powder
Coconut and granola
Combine the ingredients, add the lid, and refrigerate overnight. There are no minimums or maximums to the ingredients (well, except for what will fit in the jars). We can build each one to suit our tastes. In the morning, we can leave it plain or add some cashew or coconut milk if desired before heading out the door with the jar and a spoon in hand.
4. Avocado Toast
Tired of plain old toast in the morning? Shake things up by adding some mashed avocado to it. Prepare it the night before by mashing it with a fork and adding lemon or lime juice to keep the avocado from browning. Consider sprinkling a little cinnamon or salt on it. Those who like it spicy might add a little cayenne, pepper, or chili powder. Mix it well and seal it.
In the morning, spread the mixture on toast. For added protein, top it with a whole egg. It's a great morning treat that has the potential to keep us satisfied so we can resist morning cravings like muffins or donuts. It's easy to enjoy on the way to work or school.
5. Overnight Breakfast Bake
Have some leftover trimmed ham or bacon? We can set it aside for a breakfast bake we can make the night before. Some bakes call for a crescent roll crust or an egg-based crust.
While there are several yummy breakfast bake recipes out there, this recipe allows for healthy ingredients like spinach, turkey bacon, goat cheese, and green peppers. The best part is that we can portion the finished casserole into individual servings and freeze any extra. On those days when we wake up late, all we need to do is pop a portion in the microwave until it's warmed through and take it with us as we head out the door.
Breakfast may be the most important meal of the day. It helps fuel our mornings and allows our bodies and minds to work to their highest potential. There are many ways to prepare breakfast, but we may avoid the prep work involved and opt for less healthy alternatives. Having a plan in place before the morning rush hits will save us time and stress while helping us choose healthy entrees. Let's have an easy, nutritious breakfast and make it a great day!
~Here's to Your Healthy Ascension
Copyright 2023, AscendHealthy.com