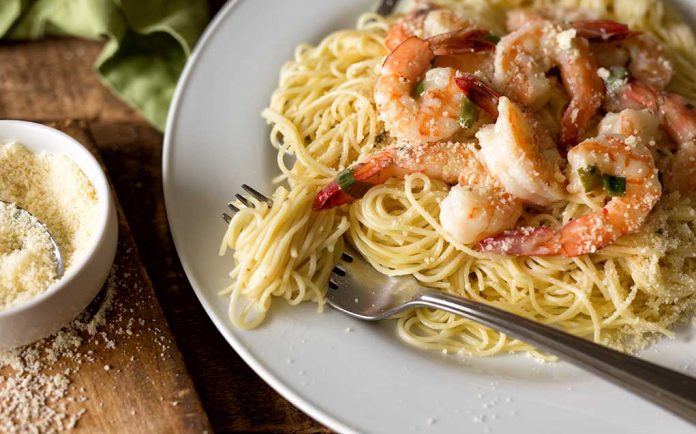 (AscendHealthy.com) – The summer heat is a good excuse to shift gears and change up meal routines. A new bounty of fresh seasonal ingredients — corn, tomatoes, lemons, herbs and so much more — makes it a great time of the year to step up the flavors.
It's also too easy for the kitchen to become an unwanted heat source. With cooling expenses already high enough, no one needs the oven and cooking range adding to the problem. Try these summer meal ideas to help keep the home cool.
1. Shrimp Scampi on Angel Hair Pasta
This quick and easy meal only takes about half an hour from start to finish, and because it uses shrimp and angel hair pasta, the indoor cooking time is minimal. The Food Network has a mouth-watering recipe that calls for simple ingredients most of us already have in our kitchens:
1 pound angel hair pasta
1 pound peeled and deveined shrimp
4 cloves garlic
5 tbsp butter, softened
2 tbsp olive oil
½ cup dry white wine
¼ cup chopped parsley
½ tsp red pepper flakes
Juice of one lemon
Zest of ½ lemon
Boil water in a large pot and cook the pasta until it's al dente. Drain the cooked pasta, reserving about ½ cup of the cooking water.
While the pasta is cooking, use the medium-high setting to heat a medium-sized skillet. Add the olive oil; allow it a moment to heat up before adding the shrimp. Cook the shrimp until they are opaque, and move them to a plate.
Return the skillet to the heat and add the red pepper flakes and garlic; cook for about 1 minute, taking care not to scorch the garlic because that will turn the meal bitter. Add the wine and lemon juice and increase the heat to high; reduce the mixture for 2-3 minutes. Add butter and the reserved pasta water, and mix well. Remove the skillet from heat.
Return the shrimp to the skillet and add the pasta and parsley. Finish the dish with lemon zest, salt and pepper to taste.
2. Chicken Salad Lettuce Wraps
This original take on meal wraps uses red- and green-leaf lettuce instead of flour tortillas and chicken salad in place of grilled or processed chicken. Use canned chicken to avoid heating the kitchen altogether. This recipe calls for:
1 head of red- or green-leaf lettuce leaves, rinsed and dried
3 cups cubed chicken breast, cooked and cooled
1-2 tablespoons red wine vinegar
1 cup chopped onion
½ cup chopped pickled jalapeno (optional)
1-2 cups mayonnaise
Dash of garlic powder
Mix the chicken, onion, jalapeno, mayo and garlic powder in a bowl. Add salt and pepper to taste. Toss the lettuce leaves in vinegar, then add about a tablespoon of the chicken mixture to each and wrap like burritos. Eat immediately.
3. Barbecued Steak, Corn and Potatoes
These three foods cook beautifully on the barbeque, so why not bypass the stove and take advantage of the outdoor weather? Get the potatoes going first, covered, giving them the most time to cook. Move them to the sides of the grill when it's time to add the meat and corn about 30-45 minutes later. Leave corn in the husk for the best flavor, and wrap the potatoes and corn in foil to reduce scorching.
A good steak doesn't need much more than salt and pepper to shine, but finishing with an added dollop of butter and pinches of onion and garlic powder can complement the richness in the meat. Garlic powder, along with a small amount of salt (or seasoned salt) and pepper, will also help bring out the flavors in buttered corn.
4. Tomato, Cucumber and Avocado Salad
Cool, nutritious and packed with flavor, this simple recipe is easy to switch up to match personal tastes. Start with equal parts of chopped tomato, cucumber and onion. Mix in:
½ cup red wine vinegar
¼ cup apple cider vinegar
¼ teaspoon chopped dill
¼ teaspoon chopped parsley
These ingredients taste best if they've been allowed to mingle overnight in the refrigerator. For best results, add in chopped avocado right before serving. Not a fan? Omit or substitute with other garden favorites; carrots, broccoli and cauliflower are all good choices.
5. Seasonal Kabobs
Make any number of flavorful combinations and use the outdoor grill to bring them all together. Metal skewers are a great choice because they're reusable and don't burn, but pre-soaking disposable ones in water allows them to work well, too. When loading skewers, alternate cuts of onion, bell pepper, eggplant, zucchini and other nutritious seasonal goodies.
Some people may choose to add beef, chicken or shrimp into the mix for added protein. Keep cuts of meat small and layer them loosely, so they don't undercook while the vegetables fry. Meat or no meat, baste the kabobs with barbecue sauce and watch it caramelize into a mouth-watering glaze even veggie haters won't be able to resist.
Why add to the summer heat when the AC and fans are already running on high? Save the soup-making and lengthy baking for the colder months, and make the most of all the great fresh veggies and herbs available this time of year. If possible, consider checking out the local farmer's market to support small businesses and get the freshest produce possible for these and other summer recipes.
~Here's to Your Healthy Ascension
Copyright 2023, AscendHealthy.com