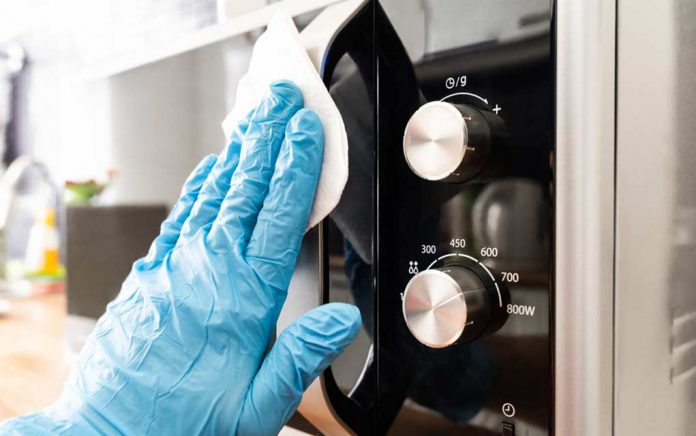 (AscendHealthy.com) – Keeping your home clean usually doesn't score the top spot on most of our daily schedules, but the pandemic has turned cleaning the house to eliminate germs into a top priority. The key is knowing exactly what to wipe down every day. Here are 10 things you should wipe down each day.
Cleaning Your Home Daily
You may have viewed keeping your home clean as a task to be done a few times a week before the pandemic occurred. Now, however, experts are emphasizing the importance of doing all you can each day to keep your house clean and free of viruses. It doesn't have to be time-consuming. But disinfecting specific areas of your home and belongings daily can help to protect you and your family.
1. Cell Phone
Wipe down your cell phone at least once a day to reduce the spread of illness. Be sure to clean it before and after making calls, since the closeness of your mouth to your phone can increase the risk of contamination. The safest option is to use a disinfectant wipe designed specifically for electronics.
2. House Keys, Purse, and Wallet
You carry your house keys, purse and/or wallet from inside your home to your errands and then back home again. It's easy to forget about disinfecting these items, but virologist Sacha Stelzer-Braid recommends wiping down these items with either alcohol wipes or hot water and some detergent.
3. Door Knobs and Light Switches
You and your family probably use certain areas of your home frequently, such as light switches and door handles. These items also should be wiped down daily. Hot water and detergent are ideal options.
4. Desk
If you are working from home or your children are taking classes at home, don't forget to disinfect the desk daily. A multi-surface cleaner at the end of each work or school day can make that desk ready for the next morning. Don't forget to disinfectant computer keyboards, mouses and mouse pads.
5. Eyeglasses or Sunglasses
You may put on and remove your eyeglasses and/or sunglasses throughout the day. Be aware of the likelihood that you're touching your face in the process. Wipe down your eyeglasses or sunglasses before you put them on.
6. Mail and Packages
Wipe down both the mail and packages outside before bringing the items into your house. If you're unpacking a box, discard the packaging in the recycle bin and then wipe down the items inside the box as well.
7. Dining Surfaces
Sheltering in place means frequent visits to the kitchen and dining room, from counters and the sink to tables. Wipe down the counter and tables after each use.
8. Bathroom Sink and Toilet
Multiple people in a household turn the bathroom into a hotspot for germs. Wipe down the toilet handle, sink handles, and sink itself throughout the day. At the end of the day, use a disinfectant spray to wipe down the outside of the toilet and toilet seat. Use disinfectant wipes on the bathroom counter.
9. Nightstand
A table by your bed can become the perfect location to stash a water bottle, book, cell phone, and even dog treats. Remove all the items, clean the area, and clean the items on it before bedtime.
10. Car Interior
Even when you limit driving to essential business, such as the pharmacy and grocery store, the interior of your car needs to be disinfected after each use. Use a product with a minimum of 70 percent alcohol to wipe down the inside of your vehicle.
Scheduling cleaning breaks throughout the day can provide a way to stay on top of your disinfecting to-do list. By regularly wiping down what the Centers for Disease Control and Prevention (CDC) calls "high touch surfaces," you can protect your family's health.
~Here's to Your Healthy Ascension!
Copyright 2022, AscendHealthy.com