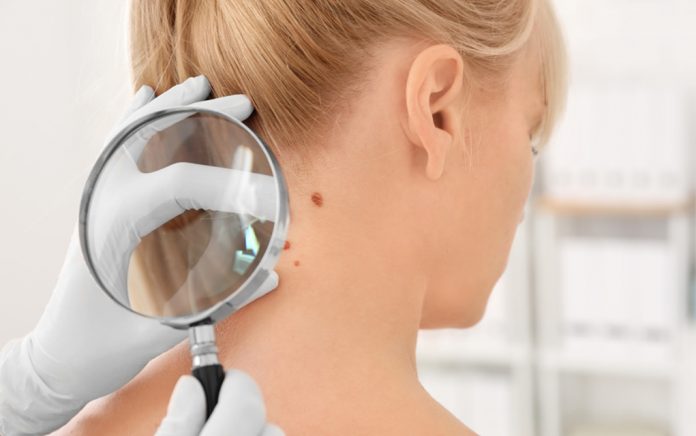 (AscendHealthy.com) – Cancer diagnoses are way behind what they were last year because of the coronavirus lockdown. This is startling news, since early detection is key. But at least when it comes to skin cancer, doctors have found a safe workaround to help patients. They're using the latest technology. Let's take a look at how it works.

This Medical Wave of the Future Is Making Skin Cancer Detection Easier.
Telehealth and Skin Cancer
Many people have had to forego medical treatments because of the COVID-19 lockdown. Doctors' offices have canceled and postponed procedures that aren't deemed urgent. But what about when the condition is urgent? And how do we know whether we should go out and risk being exposed to the coronavirus to see a doctor?
Dermatologists have come up with a new way to diagnose skin cancer during the pandemic. They're using telehealth, according to the Skin Cancer Foundation. That means holding patient appointments over the phone or on video. Doctors are asking people to examine their own skin to look for anything that could be suspected as cancerous.
The American Academy of Dermatology Association explains that Telehealth appointments could include:
A phone call with a doctor or specialist.
A video call with a doctor or specialist.
Sending information, which could include pictures and written descriptions of the condition, to the doctor through a patient portal or email.
Cancer Screening Rates Falling Behind
Because of the pandemic, cancer screening rates are way behind where they should be in 2020, says AARP. One report found that biopsies to diagnose colon cancer and colonoscopies dropped by around 90% in the first three and half months of the year. Meanwhile, cervical cancer screenings fell by over 68%.
Dermatologists say it's shocking to see how few melanomas and other skin cancers have been diagnosed during the lockdown. There hasn't been less cancer. It just isn't being diagnosed — and with melanoma, early detection is essential to successful treatment.
When it comes to detecting potential cancers, dermatology has an advantage over the other fields. Dermatologists can diagnose skin cancer by examining photos and videos. They don't need high-tech imaging equipment or invasive procedures to find problems.
Warning Signs
As useful as it is in detecting skin cancer, telemedicine also has some limitations. It's difficult, for example, for patients to do full-body exams. During normal times, doctors regularly perform these types of skin checks. Now dermatologists are asking people to do their own.
To help patients at home recognize melanoma, dermatologists use the letters A, B, C, D, and E as a guide:
A for asymmetrical
B for uneven borders
C for multiple colors
D for diameter
E for an evolving spot
People who find spots on their skin that meet the above criteria should contact their doctors right away. Other warning signs are pain, itching or bleeding on the questionable spot.
Screening for Cancer
Doctors suggest examining your entire body from head to toe using a mirror. People who find anything suspicious on the skin should take pictures or video of the area. It's a good idea to place a ruler in the picture so that doctors can see the exact size of the lesion. They will be able to determine if a biopsy is needed or if it can wait.
Dermatologist Daniela Kroshinsky from Massachusetts General Hospital says that when doctors decide to have patients come into the hospital, they have to determine whether the risk of cancer is greater than the risk of catching COVID-19. She also says teledermatology has been a real lifesaver during the pandemic.
Telemedicine is likely here to stay. Even when doctors' offices start opening back up, they'll still have to be aware of social distancing, which limits how many patients can be in the waiting room at the same time. At least in the near future, doctors will likely be using a combination of in-person appointments and telehealth. When it comes to staying ahead of skin cancer, that's a good thing.
~Here's to Your Healthy Ascension
Copyright 2020, AscendHealthy.com