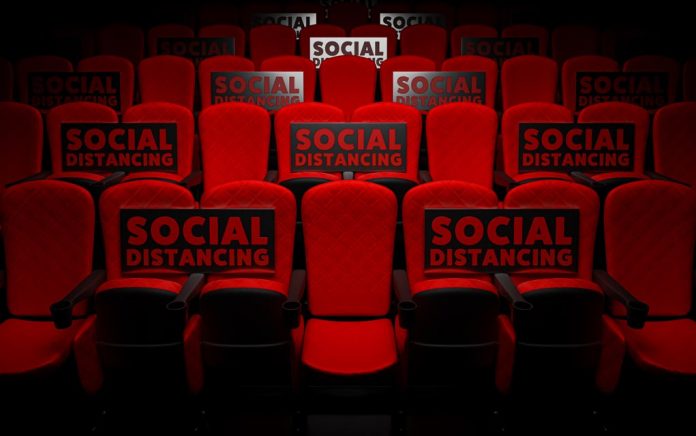 (AscendHealthy.com) – The summer box office has taken a massive hit due to COVID-19 restrictions. All those empty theaters have some moviegoers itching for the next big-screen release, and some locations are offering limited showings. While the temptation may be strong to rush out and enjoy the fresh breath of entertainment, is this really wise? Companies claim they're taking extra steps to protect you… but can they possibly do enough to guarantee everyone's safety?

Avoid COVID-19 at Movie Theaters With These Tips.
Cautious Reopening
States are reopening businesses and testing new boundaries for safe operation in the middle of a pandemic. According to AARP, over a dozen currently allow movie theaters to operate. Most have capacity restrictions and face mask regulations in place.
But a small handful of states aren't requiring theaters to demand any type of face covering at all. In such states, businesses have the right to decide whether they want to enforce the wearing of masks. Guests are often left guessing whether other patrons and employees will follow the rules — and if their safety can really be assured.
What Theaters Are Doing to Protect Visitors
Where theaters are opening, companies are doing what they can to assure moviegoers that their experience will be as safe as possible. Of course, there's no guaranteeing anyone's safety right now. Still, most chains are working hard to mitigate the risks.
For example, Regal Cinemas laid out this detailed safety plan:
Every visitor and employee in the lobby, hallways or restrooms must wear a mask.
All employees must wash their hands every 30 to 60 minutes (depending on their task list).
Hand sanitizer is now available on either side of each theater.
Vending machines, water fountains and arcade games are off limits.
Concession stands have been altered to accommodate social distancing, including the implementation of a limited menu.
Self-serve condiment stands are unavailable.
Refills on drinks and popcorn are not available.
Visitors must leave two empty seats between groups.
Contactless payment options are available for ticket and concession stand items.
Employees sterilize seats with an "electrostatic fogger" between viewings.
One issue that could compromise these carefully developed plans is the theater's continued allowance of snacks and drinks inside the theater. This might require visitors to remove their masks. Remember, people can carry and transmit COVID-19 even if they're feeling well. With the exception of people who've been living in isolation or regularly getting tested, everyone should assume they could be carriers.
Limiting Personal Risks
People who want to test the waters can make their movie theater experience as safe as possible by keeping masks on at all times, refraining from any refreshments and staying properly distanced from other parties. U.C. Davis also recommends choosing a seat away from other people who've brought in food or drinks. If they're eating or drinking, their masks won't be staying on consistently.
Plan ahead for your visit, too. Bring hand sanitizer, just in case, and avoid using the public restrooms if you can help it.
The country is doing its best to return to business as usual. While movie theatres might not be essential, they can help us relax, unwind, and destress. We might not all want to rush out and catch the latest new release, but those of us who do can take a few simple steps to stay protected. The risks are out there, so stay safe!
~Here's to Your Healthy Ascension
Copyright 2020, AscendHealthy.com