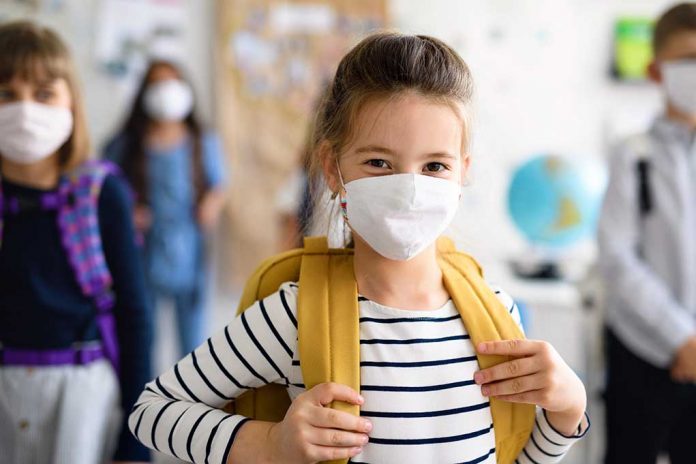 (AscendHealthy.com) – The initial waves of COVID-19 seemed to go easy on kids. Lower rates of symptomatic infections and far fewer hospitalizations left many of us feeling okay about sending our youngest generation back into the classroom.
Well, the kid gloves are officially off. New variants have changed the game, and more children are coming down with serious infections. With the new school year starting up, it's time to double down on COVID-19 safety measures. Here are five ways to help keep kids safe while they're returning to school.
1. Practice Wearing a Mask
Kids may need time to adjust to wearing masks, and they might need to try multiple designs before they find a fit they can feel comfortable wearing. Children fidget, and they're likely to tug and play with masks, especially ones with areas that are too loose or snug.
CNN recommends getting the bulk of the discomfort out of the way at home, where such activity won't be putting the child at risk. Start short, but make sure to practice daily; remind kids as needed to check themselves when they move to grab at the cloth, so they can get used to leaving masks alone.
2. Talk About Mask Use
Explain the importance of wearing a mask in close quarters, highlighting the different degrees of risk. Outside, on the playground or waiting at the bus stop, children might be okay to go maskless as long as they stay adequately distanced. When they're in the classroom or moving in enclosed hallways, however, masks are a must.
It's important for all mask wearers to understand they're covering up less to protect themselves and more to fight the spread of asymptomatic illnesses. Because children still may carry COVID-19 without showing symptoms, it's vital each and every one of them wear a mask when they're going to be interacting with others.
Be aware some children might target their peers for wearing masks, and they might try to make the practice look like a weakness rather than an act of compassion and consideration. Remind wearers they're doing their part to protect their friends, family members and teachers, and they should wear their masks with confidence regardless of any naysayers and bullies.
3. Include Measures for Buses and Carpools
Kids might not have to worry about masks while they're waiting for the bus, but they should have high-quality protection for the rides to and from school. Three-ply surgical masks that fit snugly are better than cloth masks, which may be less effective against more contagious strains of the virus. KN95s, which are small enough to fit older children, offer the best protection in small, enclosed settings like buses.
For carpools, keep the windows down whenever possible and restrict the size of social bubbles to keep risks to a minimum. Make sure only to carpool within trusted circles.
4. Prepare for Extracurricular Activities
Try to encourage outdoor activities allowing adequate distancing between children. Close-contact sports are a bad idea right now, as are band, choir and similar pursuits requiring added projection of breath. Look into choices that can keep risks down while also offering kids options outside their current ruts.
5. Boost Immune Systems
Modern society works against our immune systems in many ways, leaving us more susceptible to infections. Children are no exception. We might not be able to change our hectic schedules, but we can take steps to improve our chances of staying healthy despite the hurdles.
Research shows we may be able to improve the body's ability to respond to and fight off infections by exercising regularly, eating a well-balanced diet and keeping stress to a minimum. Give children these fundamental tools to keep their immune responses as robust and healthy as possible.
The world's done going on hold, but COVID-19 isn't ready to quit yet, either. Our kids need to stay safe when we send them out there, and it's up to us to protect them. The newer variants have made every precaution more important than ever, so if ever there's a time to double down, it's now.
~Here's to Your Healthy Ascension
Copyright 2021, AscendHealthy.com