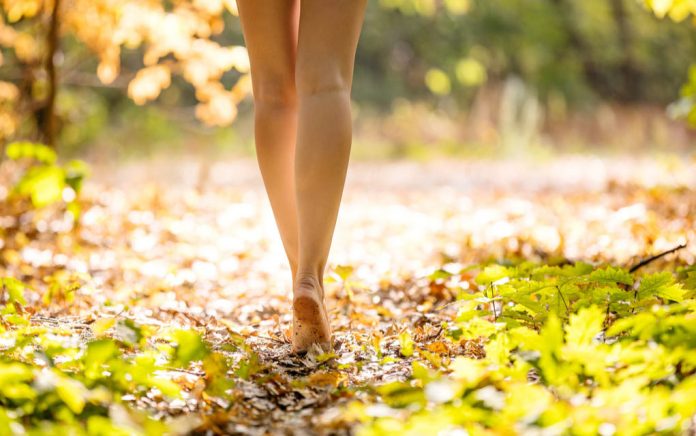 (AscendHealthy.com) – Of course, you look great in your birthday suit! Most people cover up because the general public isn't the best place to display your finest assets. Still, some things are just better done without clothes on. Doing some everyday tasks naked is about more than just liberation, it's about embracing natural beauty. Here are five clothing-optional things to try.

5 Everyday Things to Do While Naked.
1. Snuggle Down and Read
One way to soothe away the tension of the day is to cuddle up on the couch with a good book! Try it naked. There are a few health benefits, too, like a lowered risk of cardiovascular disease and diabetes.
It's a great way to lay back and relax while getting your read on. Sometimes clothing binds, restraining your comfort and positioning. Strip it off, and maybe grab a soft blanket if you get a little chilly.
2. Dance, Baby Dance
Oh, yeah. There's that feeling when a really awesome song comes on. Hmm. It makes you want to get up, jam, get funky and maybe a little sweaty. So why not do it in the bare? Strip down and crank those tunes up to a high volume. There are great health perks to dancing, too, including flexibility and weight loss.
If you have a partner, swaying back and forth to your favorite love song or classical hit while naked is a great way to embark on an intimate evening. It's sensual, personal and can bring you closer together.
3. Go Skinny Dipping
Swimming in the pool or lake can be a refreshing activity to do on a hot summer day. If you're feeling a little crazy or just restricted by your bathing suit, try skinny dipping. It might be fun and liberating to take off all your clothes and jump into the cool waters. Are you feeling daring tonight? It could be a great way to release stress and relax. It's another activity you can do to create intimacy with your partner.
4. Try Naked Yoga
For some of us, yoga is the perfect way to stretch muscles and allow the body to relax naturally. Sometimes, however, clothes can be too restrictive to achieve the perfect position. So take them off! Naked yoga allows the body to move freely and promotes flexibility. You can easily pursue this passion in the comfort and privacy of your own home unless you subscribe to a studio that permits it. You might even create a brand new yoga move.
5. Express Yourself Through Art
The creative process isn't always an easy one. Many things might interfere with generating art, even clothing. Are you too hot, too constricted, too blocked from your medium? Then strip off those clothes! In your space, set up your easel — or your pottery wheel — or your fiber arts — and dive in. You'll be shocked at the beautiful art you create.
Since birth, we've learned to keep ourselves covered. We're subtly or overtly censured for publicly baring too much skin. But maybe in private, it's time to break those chains and celebrate our naked freedom by engaging in safe activities. Life is short, so get creative and do whatever brings you the most joy!
~Here's to Your Healthy Ascension
Copyright 2020, AscendHealthy.com